Jazz Up Japan
Musicians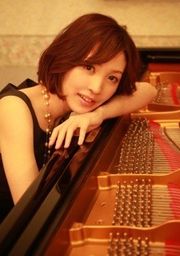 Mari Saeki gives an outstanding performance in playing piano / keyboards and composing / arranging music.
Saeki's passion for music has developed since an early age under her parents, who both are musicians.
She began her music career on an electronic organ, which led her to a Japan-nationwide competition as well as television appearances.
Her composition skills have been built by studying with Wataru Tajima and piano playing techniques have been cultivated by training with Masami Kishimoto.
Saeki hails from Hyogo Prefecture, Japan and graduated from the composition course at Osaka College of Music.
Discography
• Rain Grass (June 19th, 2013; XQCJ-1010)

*  Mari Saeki (pf) / Takuya Sakazaki (bs) / Ryo Shibata (dr)


• Annabelle (June 28th, 2011; XQCJ-1007)

* Disc 1; Mari Saeki (pf) / Takuya Sakazaki (bs) / Ryo Shibata (dr)
* Disc 2; Mari Saeki (pf) / Rika Ikeda (vln) / Tomoko Kageyama (marimba & vib) / Yasunori Ohnishi (cel) / Hidenori Sato (dr)


How will she immerse you in her world of music?
Here are Mari Saeki's Myspace™ and videos via YouTube™.
(Last updated: June 16th, 2013)